Perspectives vary on whether wood pallets are a suitable pellet feedstock, but those using them insist it's a good use for the fiber, and that their product can stand up to tests.
The ubiquitous wood pallet is often seen hoisted by a forklift and piled high with new, shrink-wrapped goods headed to market. Pallets have become such a common sight in the world of logistics that the public doesn't view them with suspicion, or consider them particularly controversial.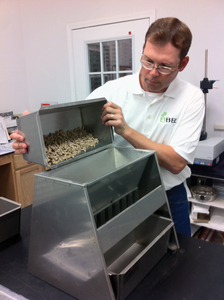 But that changes when the discussion turns to what happens to wood pallets at the end of their useful lives, which can be more than a decade. It's not a trivial subject. According to the National Wooden Pallet and Container Association, there are 1.8 billion pallets—93 percent made of wood—in use in the U.S. every day, and 3.3 billion a day throughout Europe. Turning them into a fuel source when past the point of recycling not only reduces greenhouse gas emissions, but also keeps millions of tons of solid waste out of landfills each year.